Driving a Cobra!
May,2009- Philip Creighton Motorsport and Rossella Manfrinato recently had the opportunity to work on a Ford Cobra replica built by the Factory Five Racing. Following that experience Rossella had also the pleasure of driving the car ... although briefly! Thanks to Gert Adolphsen.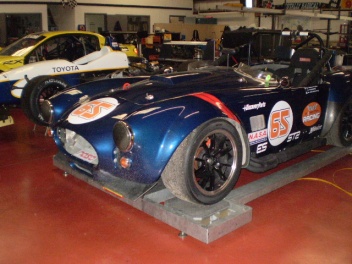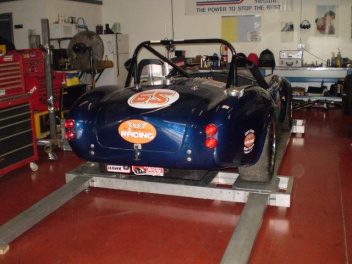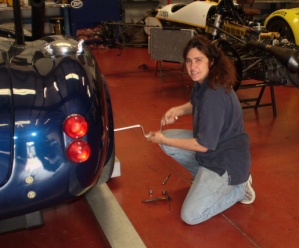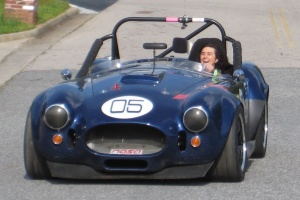 Helping young drivers maximize their potential
May. 2009 - I am pleased to support the Ken Ungar program to help young drivers maximize their potential in their professional racing life. This program complements the driving ability aspects of the sports with the skills needed to advance their motorsports careers. As I am actively involved in looking for young talented drivers in their early stages of their racing, I welcome this program which fills a much needed gap. For more details regarding this opportunity, please read the following press release and click here.
U/S Sports Advisors Announces Motorsports Edition
of its Ahead of the Game Seminar Series
Carmel , Ind. – In racing today, being fast is important, but it's not enough. Without adequate preparation for the winner-take-all industry of motorsports business, drivers risk derailing an otherwise promising career with a single misstep. To better equip the rising stars of motorsports for the off-track challenges that lie ahead, U/S Sports Advisors announced today an auto racing version of its unique seminar series: Ahead of the Game , What Every Athlete Needs to Know About Sports Business ™ – Motorsports Edition.
Designed with young drivers and their parents in mind, this seminar helps drivers define their own personal brand, create a game plan to promote their career and set a course to locate vital sponsorship dollars. Ken Ungar, President of U/S Sports Advisors, a sports business consultancy based in Carmel , Indiana , leads the seminars. The seminars are based on Ungar's book, Ahead of the Game: What Every Athlete Needs to Know about Sports Business (Sports Career Press, 2007), a complete primer for the challenges that athletes face off the field.
Ungar states, "Our book, Ahead of the Game , has helped athletes from many sports get the information and skills required to build a professional career. Since we first identified the need for a book of this type in motorsports, we wanted to give back to the sport by tailoring our Ahead of the Game Seminar Series to the needs of young race car drivers."
The materials for Ahead of the Game Seminar Series have been developed over many years in the sports industry through the collaboration of U/S Sports Advisors with athletes, team owners, agents, broadcasters, sponsors, the media and many others. Ungar's sports business expertise has been highlighted in numerous national outlets including ABC World News Tonight, Good Morning America, ESPN News, Fox Business News, CNBC , Sports Illustrated, and the Sports Business Journal .
The series will kick off at the Indianapolis Motor Speedway's Brickyard Crossing on Community Day, Wednesday, May 20 th . A second seminar is being offered at the Autobahn Country Club on Wednesday, July 22 nd with future dates to be added soon. Additional details and registration information for the seminars is available on-line at www.AheadoftheGameSeminar.com
2009 FF 2000 Program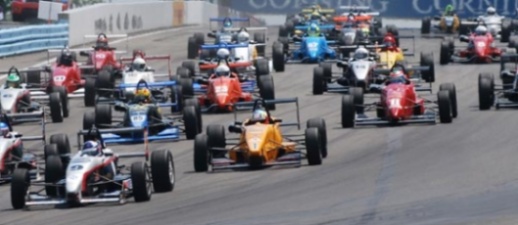 February, 2009 - Rossella Manfrinato is going to run a F2000 Series program for the 2009 season in conjuction with Philip Creighton Motorsport. The team, based in Alpharetta, has a professionally equipped facility which includes several working bays, welding, fabricating and machining areas, a cleaning station, gearbox maintanence area and storage space. It also has a chassis surface plate for more complicated repairs and measurements. The Team owns a Concept Kenworth T600 Aero with a custom built Concept trailer with lift gate, full awning and Kiwi tile flooring, as well as a two-cars 42 ft 5th wheel trailer with a full lenght awning and Ford F350 Dually to pull it. For more information about the team, click here.
Rossella came to the USA to manage the Tatuus FF2000 team and engineer their works entries in 1998. With several wins, poles, 2nd place in the series and the Oval Crown the team was a force to be reckoned with in its first full year in the USA. She is thrilled to go back to her roots!
With six double weekends the F2000 Championship Series is the perfect competitive ground in which the drivers can show their talent to higher Series, while competing in the same weekend, at a fraction of the cost compared to similar open wheel championships.
Great professional drivers have come out of the FF2000 ranks, as this series has always proved instrumental in the learning experience; the cars have a wide range of aerodynamic and mechanical adjustments, which allow drivers to develop their set-up skills, while improving their performance. The class is the only remaining open-chassis formula, where drivers as well as team engineers and mechanics can make the difference to rise to the top.
A wide internet coverage with interviews, articles, reviews, results, standings, press releases and news provides the Series with a great exposure for drivers, teams and their sponsors, making the FF 2000 Championship a good vehicle for promoting business in a difficult time.
For more details on our program, please click here.
Daytona Rolex 24 Test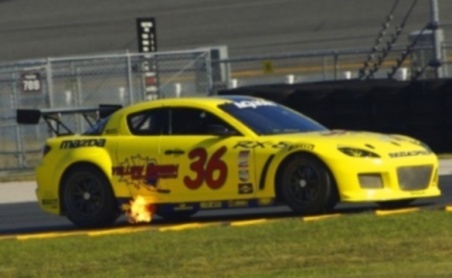 November, 2008 - Rossella Manfrinato headed to Daytona for the open test organized by Grand-Am in view of the 24 Hours season opener race coming up in January. Engineering for Yellow Dragon Motorsports, this was the first outing for the brand new No. 36 Mazda RX-8 chassis. Sylvain Tremblay of SpeedSource, a veteran racer of the RX-8, tested the car Tuesday, and Chris Festa was scheduled to test the car Wednesday before the car suffered a small mechanical issue, which could not be fixed properly at the track.
The Team, although disappointed for the teething problem of a new chassis was very pleased with the car strong debut.
"At the end of the day, we've had a great testing session," team owner Jack Smith said. "It's been a good demonstration of the car's ability to run a reasonable, competitive lap time, and we're very satisfied with the way things have come out."
The car is prepared by veteran crew chief Phil Creighton at his Atlanta based shop, to help progress the car and put together a solid package when it takes to the track for its first competitive laps in January's Rolex 24.
"We're a new team, but we've been here and done this before," Smith said. "We've looked at this series for a couple of years - I didn't just do this on a whim one afternoon - and looked at different cars. I've raced Mazdas at the amateur level for 25 years and I know how Mazda supports its race teams."